Arts & Culture is a West Valley Key Asset
Author: Erin Thorburn, WESTMARC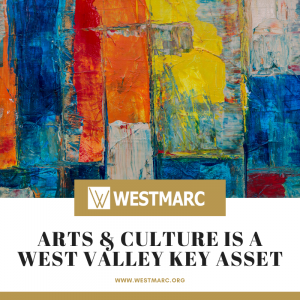 "If art is to nourish the roots of our culture, society must set the artist free to follow his vision wherever it takes him." — John F. Kennedy
Whether you happen to be an artist, admirer of the arts, or both, the West Valley awaits you. Host to a robust skilled workforce, employment opportunities, high-end housing and dining experiences, the West Valley has another key asset. Arts and culture. Both of which are deeply embedded and supported by diverse and dedicated organizations and institutions. And together, they're propelling the economy and quality of life forward in the West Valley.
"A vibrant quality of life is what most businesses and families look for when relocating to a new area," says Bernadette Carroll, executive director of the West Valley Arts Council. "The West Valley Arts Council (WVAC) was born out of the need for arts and culture in the West Valley. Before there were City Arts Commissions, WVAC was the cultural connector to the cities, schools and local businesses."
Recently awarded the 2019 Best of the West Award for its work in the community, WVAC serves as a prime example, celebrating 50 years of artistic cultivation in the West Valley.
Established in 2006, WHAM is another notable West Valley incubator for artists. The non-profit art organization represents upwards of 150 artists, many of whom have studios at WHAM.
"WHAM provides not only traditional art classes to adults and children but works with underserved populations to give them the means to be an active part of our society," explains Connie Whitlock, executive director of WHAM. "WHAM's 501c3 non-profit certification brings art education to our community."
As part of WHAM's community engagement, free classes are available to veterans. "Art: A Path To Healing" is offered once a month (with lunch) to veterans and first responders taught by professional artists to help prepare the veteran with a way to relieve stress," Whitlock says.
WHAM also hosts "Finding Your Hidden Talent" for adaptive groups and "Creative Mindful Art" for people with Dementia.
Both Peoria-based powerhouses TheaterWorks and Arizona Broadway Theatre (ABT) have been enriching the West Valley performance arts offerings for over a decade.
"TheaterWorks was founded in 1986 by twelve people who believed in the work of our founder David Wo and knew the West Valley needed a theater," says Cate Hinkle, managing director of TheaterWorks. "After mortgaging their homes and renting out a barn, they created one of the only sources for performing arts in the West Valley at the time. The 2019-20 season marks the 34th season running."
As the West Valley's premier high-end "grab dinner and a show!" experience, ABT has been entertaining Valley residents for 15 years.
"ABT is an all-in-one entertainment experience with a national reputation for drawing top talent," says Brad York, marketing director for Arizona Broadway Theatre. "ABT's creative team, led by Cassandra Klaphake and Associate Artistic Director Kurtis Overby, hold bi-annual auditions in New York City as well as regular local auditions in Arizona — casting the best actors, singers and dancers."
While entertaining West Valley families is certainly a function of these local performance art entities, fostering and providing performance opportunities serve as an additional priority.
"Over the past two years, the reception to HyRev, the ABT theatre's new elite performance troupe, has been remarkable," York says. "With over 60 talented kids enrolled from across the Valley, the program has become an essential element in improving the quality of life for our community by providing a local, home-grown outlet for kids to learn and grow through the enriching power of the performing arts."
Theatre work offers and produces full seasons of theater with youth theater (YouthWorks), puppet theater (PuppetWorks), youth education camps and classes (Kids Alive! and SummerWorks Academy) and (AdaptiveWorks) and educational programming for adults over 50 (Broadway Sr.).
"TheaterWorks welcomed 8,000 school-aged youth to field trip performances, hundreds of young people to its YouthWorks Academy classes and camps, more than a hundred young people to its stages, and is drawing more families than ever before," Hinkle says.
Alone, the West Valleys arts and culture provisions are plentiful and unique in their offerings. Together, they serve as a greater gateway to economic growth and possibility.
WVAC coordinates a national five-year study for the Americans for the Arts/Arts and Economic Prosperity Study for the West Valley. "Our regional Arizona data collecting showed that nonprofit arts and culture organizations and their audiences contributed nearly $23 million in direct economic activity in the West Valley in 2015," Carroll says, "generating more than $2.5 million in local and state government revenues."
WVAC's next study is slated for 2020.
"The West Valley has a deep-rooted sense of community," Hinkle says. "There is a small-town feel but with the growth of a big city. Everyone has a huge sense of pride about living in the area and around the history and great sense of enthusiasm in the future."
"The West Valley is a prime location to cultivate art, artists and host artistic culture and talent, and will continue to be as the population flourishes," Whitlock says. "bringing more and more people into this area."