West Valley Extends a Manufacturing Legacy
Author: Erin Thorburn, WESTMARC
Gov. Ducey extends a personal invitation to manufacturers to join Arizona's booming growth, a majority of which is taking place in the West Valley.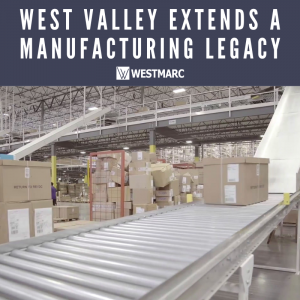 Arizona Governor Doug Ducey has a message for the world's manufacturers: "If you're searching for the best place on the globe to build your products and your legacy, Arizona is that place."
Ducey's compelling invitation was delivered during the recent Made in Arizona tour. The Arizona Manufacturers Council (AMC) kicked off the Made in Arizona Tour with a bipartisan delegation of state legislators and other local leaders at the 700,000 square-foot Sub-Zero Group, Inc. Goodyear manufacturing facility.
During the Sub-Zero Group, Inc. portion of the tour, Ducey helped illuminate the state's robust growth in manufacturing.
"Thanks to organizations like Sub-Zero, PepsiCo Gatorade, Boeing, Benchmark Electronics, Raytheon, Pivot Manufacturing and so many others, Arizona is building a reputation as a manufacturing powerhouse," Ducey said. "Today I'm proud to say that Arizona has more manufacturing jobs than we have construction jobs. There are 179,000 manufacturing jobs in this state and 174,000 construction jobs."
Of the 179,000 manufacturing jobs (and growing) many are and will be available in the West Valley. Andersen Corporation's 500,000 square-foot manufacturing and distribution facility in Goodyear recently added 415 jobs during the first phase of expansion. And of course, much buzz surrounds the arrival of Nike's manufacturing facility (also in Goodyear) with the potential to bring in upwards of 500 new jobs to the West Valley.
Manufacturing employment opportunities aren't relegated to new arrivals. Many existing manufacturing facilities in the West Valley are expanding. Sub-Zero Group, Inc.'s Goodyear facility serves as a prime example, expanding its 400,000-plus square-foot operating space to upwards of 700,000 square feet (in 2016).
"We're up to 650 employees," said Dan Marotz, site manager for Sub-Zero Group, Inc. "We're excited about doing business here in the West Valley."
The most recent statistics demonstrate that 33% of manufacturing workers in Maricopa County live in the West Valley. It's also a workforce pool for which manufacturer employers will soon need to compete.
"The workforce was one of the top reasons why we chose the location we did, especially the Northwest Corridor with 100-square miles where the population is booming," said Hiroyuki "Doc" Takahashi president of IRIS USA. "From the Grand Corridor to Central Phoenix along the I-10 was and continues to provide a viable workforce opportunity."
Primarily due to workforce availability, IRIS USA moved its corporate headquarters from Wisconsin to Arizona in 2016.
"We have found a diverse mix of workforce-ready employees from experienced manufacturing and supply chain labor to professionals in sales and marketing," Takahashi said.
Manufacturing entities have the added benefit of the Greater Maricopa Foreign Trade Zone (GMFTZ), which includes six sites throughout the West Valley with locations in the City of Goodyear, the City of Surprise and one west of the Town of Buckeye.
Sub-Zero Group, Inc. was the first company to join the GMFTZ in the West Valley region.
"The GMFTZ is a federal program that allows eligible manufacturing companies to take advantage of tax benefits," said Sintra Hoffman, president and CEO of WESTMARC. "This is an important program to grow our manufacturing industry, and especially important for a state with limited economic development tools."
And while incentives in a ready-made workforce and foreign-trade zone await the world's manufacturers in the West Valley, so does a platform for unique collaboration among local cities and the state.
"When we worked with the City of Surprise they were fabulous and easy to work with," Takahashi said. "They have one of the best economic development teams we've had the pleasure of working with."
"I look at this bipartisan coalition and think, only in Arizona do we have this type of collaboration in this political environment," Ducey said. "Today Arizona is experiencing the strongest manufacturing growth it has in 30 years. In terms of job growth from 2014 to 2018, manufacturing job growth in our state has increased by 9%. This is well beyond the national average of 4% and its more than doubled California's anemic growth."