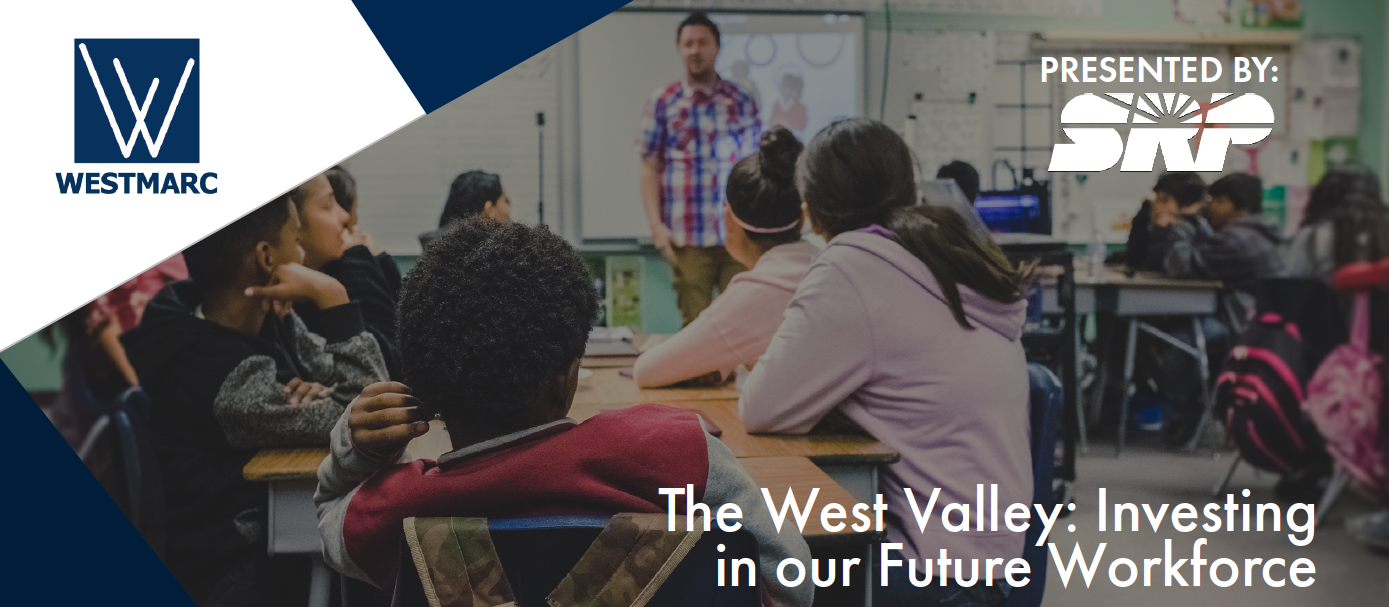 WESTMARC Annual Economic Development Summit 2020 being brought to you as a Virtual Event this year!
After you have registered (if you did not provide your guest names on the registration form), please complete the online form by selecting the "Submit Names" button at the top of the page.
DAYS UNTIL THE ECONOMIC DEVELOPMENT SUMMIT
DATE: WEDNESDAY, JUNE 10, 2020
West Valley schools are high-performing, award winning and growing in programming and choices. Join us for a robust discussion on education advancements in the West Valley over the past decade. Learn how our educators prepare West Valley students with life long skills, and creative partnerships with key industries for immediate and local employment!
You don't want to miss this interactive event with 3 educational panel discussions, opportunities to ask questions during the moderated format, share you opinions through live polling and more!
What's an event without a great meal? The first 400 registrants will receive a gift card for lunch at a local restaurant as we support the emergence of our local businesses!
We are also doing an attendee raffle prize drawing after each break so make sure you stay for the whole webinar to increase your chance of winning!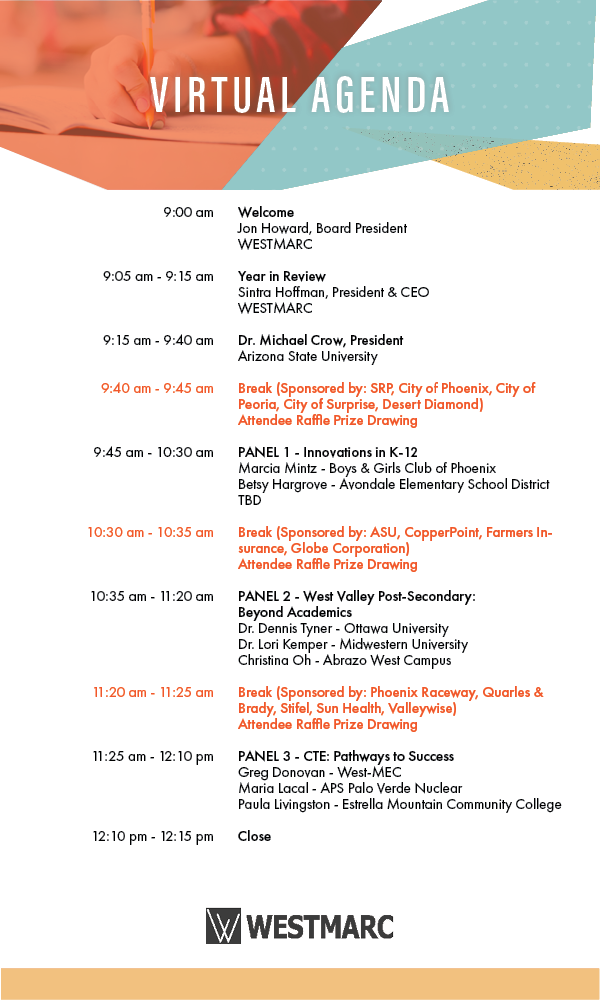 Featured Speaker: President Michael Crow, ASU
We are honored to feature the renowned President Michael Crow as he shares his wisdom on transforming Arizona State University to a top performing university that is consistently ranked #1 in innovation by US News and World Report.  His leadership has led Arizona's rise in economic development wins as ASU continues to develop programs to support the state's targeted business growth areas. Today, innovation and reinvention is more important than ever.  Join us for an interaction session with Dr. Crow.
Panel 1 – Innovations in K-12 Education
Panel Description: Over the past two decades, the education landscape has changed, brining new demands on teachers, administrators, school districts, and communities.  Teacher training has responded to these demands with innovative approaches for learning. In a nation where many homes have working parents, community organizations play a larger roll taking academics beyond to offering life and social skills. But the biggest change facing K-12 education this year was the abrupt and drastic changes caused by COVID-19.
This panel of education and community experts will increase your knowledge of how pivoting strategies in order to prepare K-12 students for their next steps in life and learning.
Panel 2 – West Valley Post-Secondary: Beyond Academics
Panel Description: English, Math, Sciences, and other college requirements are great but what else should our future workforce know before starting the first "real" job?  How do we measure success in Arizona's post-secondary schools and what does Achieve 60 really mean?  How will post-secondary education be impacted by COVID? Our expert panel will have a robust conversation on how to prepare students beyond the academics, to be job ready, and find employment right here in the West Valley!
Panel 3:  CTE – Pathways to Success
Panel Description: College degree versus Certificate?  This is not a choice but rather, a career pathway to successful employment and career growth. Learn from West-MEC and Estrella Mountain about their partnership with local employers to prepare high school students for immediate jobs, and options to continue their education in community college and university.
This panel of experts will share surprising statics and success rates to give you insights on how your company can benefit from of this partnership model.
Cost To Attend: