West Valley Business Tech Summit
Technology is inherently integrated into our daily lives. The West Valley is also seeing increasing investments from global and national tech companies.  Are we positioned to be the next tech hotbed in the state with the right mix of workforce and education? Join us to learn from experts and investors on why the Arizona economy is attracting companies in advanced industries.
When: September 8, 2022
Time: 8:00am - 1:00pm
Location: Estrella Mountain Community College- Conference Center; 3000 North Dysart Road, Avondale, Arizona 85392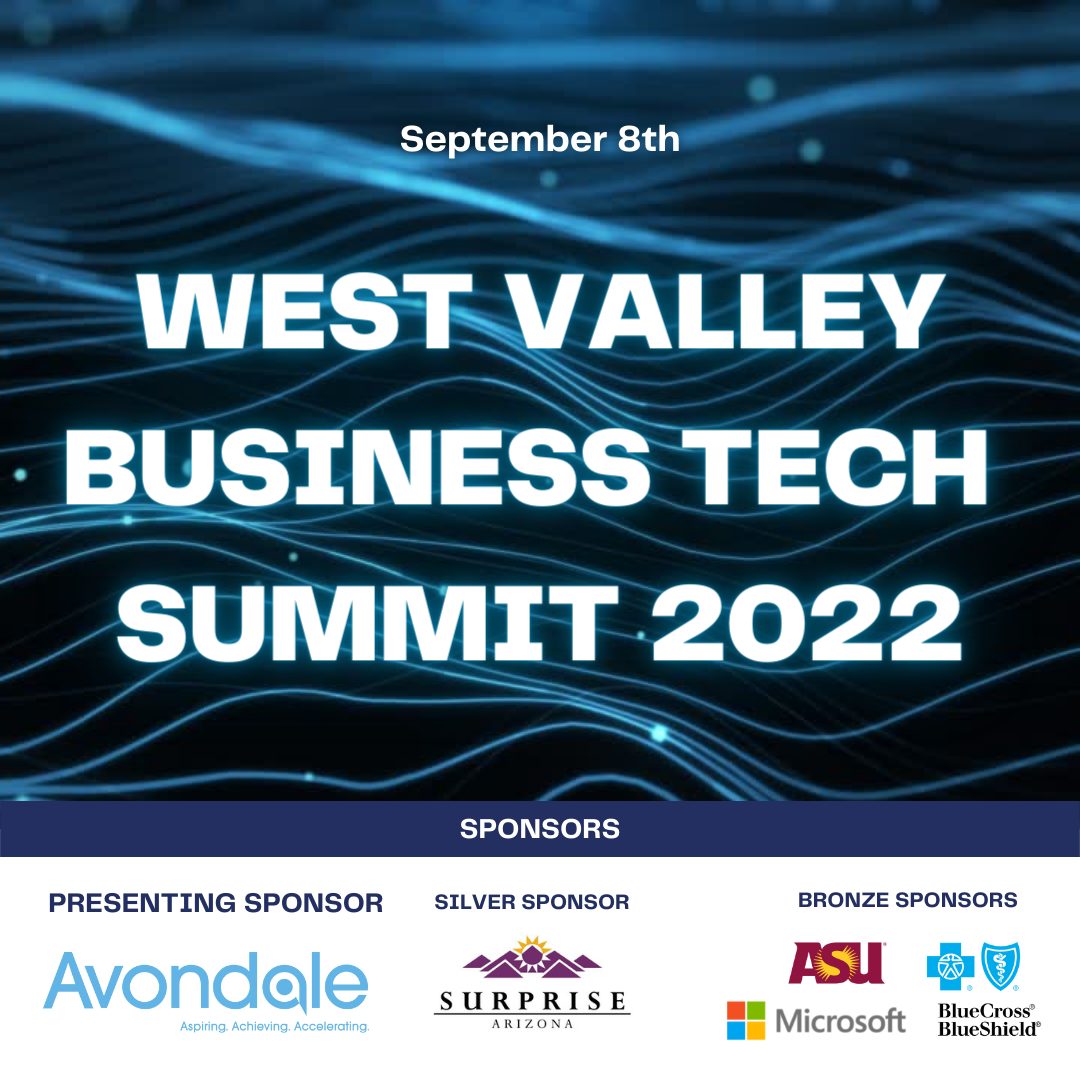 Panel Information
Global Tech Futurist: Scott Hamilton - CEO, ENP Institute& NextWORKS
Panel 1: Infrastructure / Supply Chain - Modernizing infrastructure leads to better opportunities and a more sustainable community. Technology is reshaping infrastructure as the need of digital access and equitability is increasing in this new economy. Cities and companies need to reimagine technology as it transitions from the traditional physical infrastructure to physical-digital infrastructure with a focus on broadband and fiber due to the advancements and quantity of smart devices, cars, and remote working.  Learn more about how you can get future-ready by integrating technologies into existing infrastructure.
Speakers: Mark Paratore - VP of Business Development - GPEC, Michelle Brugman - Senior Account Manager - Lumen, Diana Bowman - Professor & Associate Dean - Sandra Day O'Connor College of Law (ASU Law)

Panel 2: What's on the Horizon - Illuminated by the growing global need for innovation, the Valley of the Sun is now a tech industry destination point and a tech business powerhouse. Recognized for leadership in chip development and manufacturing, Artificial Intelligence testing, cybersecurity, innovation, and top-tier education, Arizona continues to attract the best talent and businesses, working to solve the greatest challenges. Hear from the experts. Learn about real opportunities that may benefit your organization.
Speakers: Alan Claypool (Moderator) - CEO - Technology Leaders Group, Ron Babich - West Valley Innovation Alliance - Chair, Heather Monthie, PhD, CISSP - Head of Cybersecurity Training, Education, & Innovation Offensive Security, Mark Moeremans - Senior VP - Entrepreneurship & Venture Development - AZ Commerce Authority.
Panel 3: Creating the Future - Creating the future means taking responsibility for present conditions and building improved outcomes for the next generation of people. Technology is increasingly embedded into our daily lives, and as we manage growth in the West Valley, thoughtful planning is needed to shape the best technology-focused solutions. What plans are in motion today to support the use and acceleration of technology for a better future, and what do we need to know? In this panel, we'll learn about some of the leading-edge thinking, initiatives and applied technologies at the local level that are aimed at transforming our economic, social and physical well-being - and creating a better future for all of us! 
Speakers: Jeanine Jerkovic, CEcD (Moderator) Economic Development Director - City of Surprise, Joan Koerber-Walker - President & CEO - AZBio, Jordan Rose - Founder & President - Rose Law Group pc, Robert Vera - Founding Director of GCU's Canyon Ventures Center for Innovation & Entrepreneurship.